The Intensive Care Society New Investigator Awards 2023
The Intensive Care Society is offering £30,000 in total to applicants to the NIA award. Applications are open now!
The research grants of the Intensive Care Society are aimed primarily at encouraging new researchers from medical, nursing, physiotherapy and other allied health qualified backgrounds. The definition of "new" is left intentionally open. This is not open to researchers with established research programmes who hold significant competitive funding. For example, this would be open to junior researchers within their first 3 years of commencing activity within the critical care research community.
The awards are intended to be pump-priming grants that will lead to further and more substantial funding support from other grant bodies. The grants are open to UK-based Members of the Intensive Care Society. Applicants must be working within a UK NHS Trust or institution to apply for this award.
How to Apply
The Intensive Care Society & NIHR Clinical Research Awards
The Society, in partnership with the National Institute for Health and Care Research (NIHR), was pleased to run the ICS and NIHR Clinical Research Awards 2023.
These awards recognise and celebrate those making outstanding contributions to clinical research, particularly in relation to NIHR Clinical Research Network (NIHR CRN) portfolio research studies from all professions in adult intensive care.
We offered two awards of £2,000 to recognise contribution, engagement and leadership in academic research from staff within UK intensive care and the winners were announced at the 2023 State of the Art Congress in Birmingham.
Congratulations to Brendan Sloan and Nikitas Nikitas!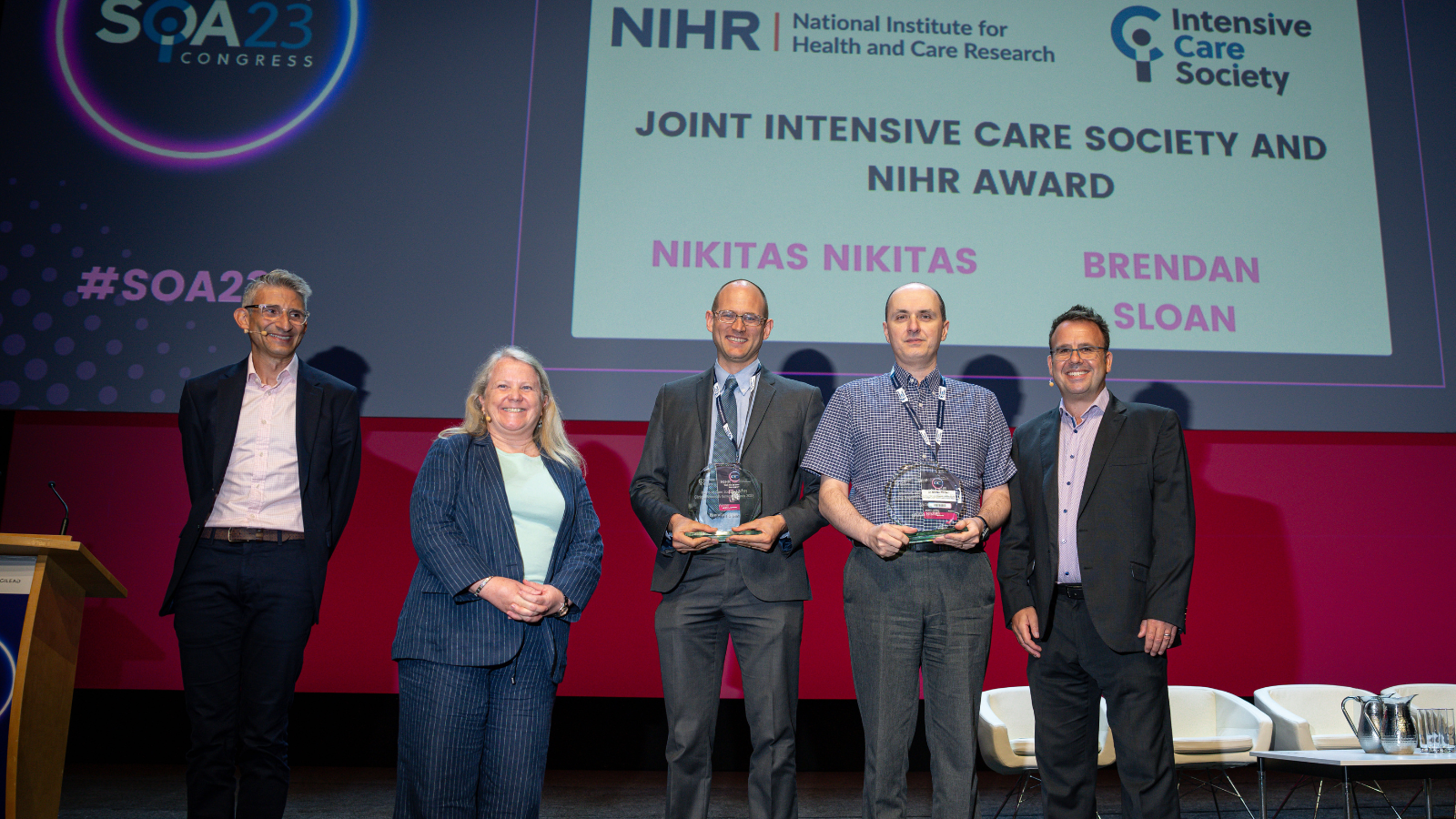 State of the Art Congress: Abstracts and ePosters
Each year the Society offers investigators and clinicians the opportunity to present their work in either a poster or oral format at our State of the Art Congress. Successful work in all categories will be published as a Journal of the Intensive Care Society (JICS) abstract (PubMed-listed) and reviewed by the Editorial Board. There is a significant conversion rate to full article publication in JICS.
How to Apply
Closed.

National Clinical Impact Award (formerly ACCEA)
Recently there have been changes to the National Clinical Impact Awards (NCIA) scheme which have affected all supporting bodies, like the Society. Supporting bodies are no longer permitted to provide written citations in support of applications from our membership or community.
The Society is acutely aware that our role in past NCIA rounds was viewed by members as extremely useful and as such as we are keen to provide some level of support. Whilst official scoring and peer reviewing of applications is no longer allowed, the Society is permitted to review applications against a checklist which the Advisory Committee on Clinical Impact Awards (ACCIA) has provided.
Guidance for applicants
For those considering an application to this year's NCIA we recommend you read through the guidance for applicants and also consider the BMA's guidance on the financial implications of an award.
Important dates
The awards are open from 3 March 2023 to 28 April 2023.
For colleagues who would like to have their application reviewed against the ACCIA's checklist, please email John Jones by Monday 27 March.