ePosters and Oral Presentations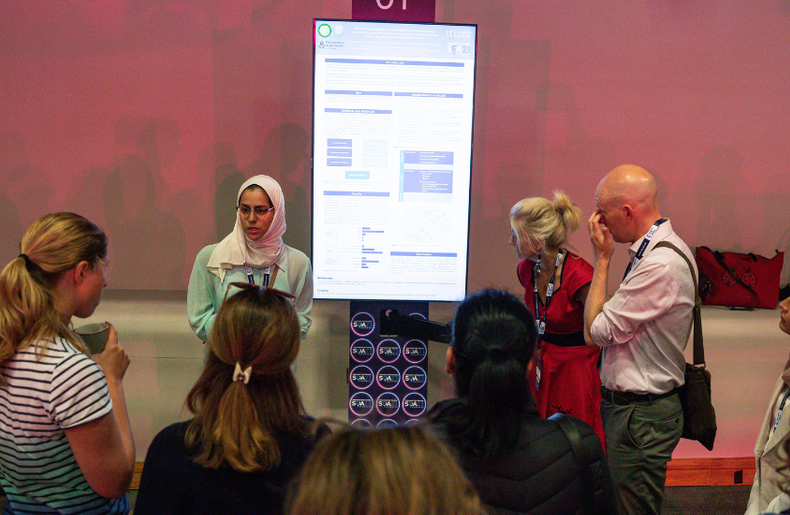 Start your submission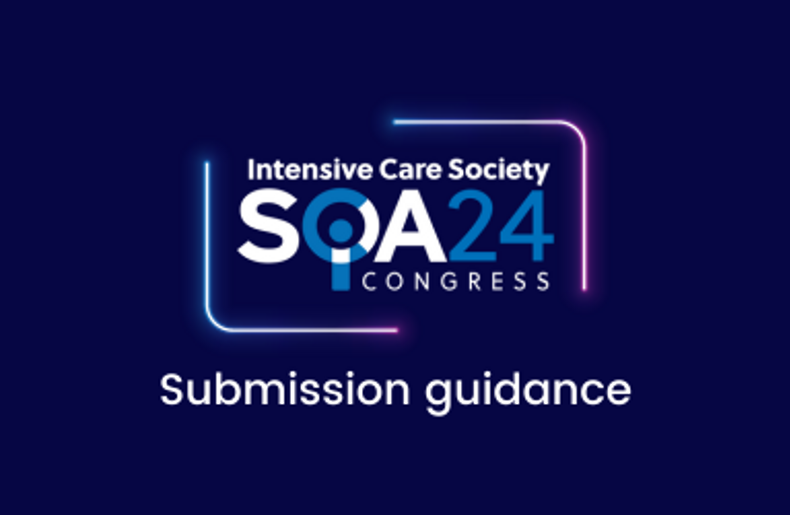 Submission guidance
JICS
All successful abstracts are published in the Journal of the Intensive Care Society (JICS), our PubMed Indexed Journal.
The Intensive Care Society invites you to submit your work and present your research, audit, innovations, and clinical cases at SOA24, taking place 18-20 June 2024 at the ACC Liverpool. This is your chance to stimulate debate, share knowledge nationally and internationally, as well as enhance your own portfolio and presentation skills.
ePoster Display and Discussion
ePosters are an integral part of the congress programme. Successful authors will be given the opportunity to display their ePoster on large digital screens and present a 5-minute oral discussion followed by 2 minutes of questions in the exhibition hall during the congress. ePosters will also be displayed on the event platform throughout the congress and for up to 6 months on demand, enabling delegates to browse the posters and get in contact with authors. It is expected that presenters attend the full conference.
Oral Abstract Presentation
The top five abstracts will be shortlisted and authors given the opportunity to provide a 12-minute oral presentation (10 minute presentation, plus 2 minutes for questions and answers) in the main programme. These short presentations should discuss the abstract submission and draw attention to research highlights. Authors invited to give an oral presentation are not required to upload an ePoster
All abstracts will be published in the Journal of the Intensive Care Society (JICS) which is PubMed indexed.
Eligibility
All members of the multi-professional team - all professions, all grades, including all students.
Word count
Abstract: 500 words
References: 200 words
Deadline
Monday 8 January 2024, 11:59pm (GMT)
Topics
Acute respiratory distress syndrome
Airway management
Brain death, organ donation and transplantation
Cardiac arrest
Cardiology and cardiothoracic
Cardiovascular monitoring
Communication
COVID-19
Critical care in low and middle-income countries
Critical care organisation, quality management, costing and outcomes
Data science
Echo and ultrasound
Education and simulation
Environmental sustainability
Equality, Diversity and Inclusion
Ethics
Haematology & Oncology
ICU follow-up
Imaging in critical care
Infection prevention
Infectious diseases
Information technology
Intensive care outreach
Liver failure & transplantation
Metabolism and endocrinology

Neurointensive care
Nutrition
Obstetrics
Outreach
Paediatric intensive care
Palliative and end of life care
Peri-operative medicine
Pharmacology
Poisoning and toxicology
Quality and innovation
Rehabilitation
Renal failure and support
Respiratory failure and support
Sedation, analgesia and delirium
Sepsis
Severity of disease scoring systems
Systemic diseases
Tracheostomy
Transfer and retrieval
Transfusion and haemostasis
Trauma
Wellbeing
Workforce
Other ICU related topic not listed above
Key dates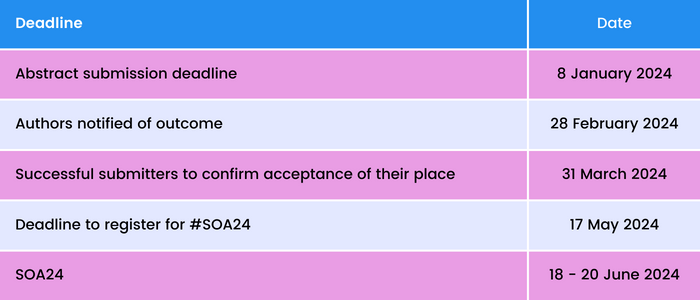 Contact
If you have any queries about the submission process or you want to withdraw your submission please contact us at soa@ics.ac.uk.